2019 Israel & Petra, Jordan Tour
April 3 - 14, 2019
(12-day Jewish Roots tour)
Please scroll to the bottom for registration form. (Our trips are limited to 25 people).
We can book your flight coming from any state in the USA (or world, for that matter).
We invite you to share the experience of a lifetime—a trip to the land of the Bible. On this 12-day journey, we will actually study the Bible on-site, in the places where the patriarchs, our Savior, and His disciples lived! We will visit Jerusalem with its garden tomb; see the Mount of Olives and the Garden of Gethsemane, and Caesarea by the Sea; visit Megiddo where the Battle of Armageddon will take place, float in the Dead Sea, view the Mt. of Beatitudes; stand on Mt. Nebo where Moses overlooked the Promised Land, get baptized in the Jordan River, take a Cable Car up to Masada, witness Ein Gedi where David fled from Saul; see the Qumran Caves, kayak in the Sea of Galilee, ride a camel in the wilderness where Moses walked, and visit the village of Nazareth where Jesus lived. We will visit Petra, Jordan as well!
Our tour has a "Jewish roots" focus with optional Sabbath (Shabbat) worship services and optional Davidic Dancing opportunities.
For those interested in more information and who live in the southern California area, we will have Information Meetings where Deby will teach how to count Israeli shekels, distribute a booklet called "Getting Prepared Spiritually" (for the tour), discuss what to pack, and discuss evening options. Please email info@SongForIsrael.org for more information.
If you live outside of California and will be joining our tour, please fill out the registration form at the bottom of this page so that you will receive any handouts given out at the meetings.
Printable copies of the itinerary, registration form and a colorful flier are available at the bottom of this page.
ITINERARY (Subject to Change)
(USA to Tel Aviv, Israel)
West Coast/LAX - Departure via Air Canada (Voted #1 airline)

East Coast/JFK - Departure

We can arrange your departure from anywhere in the world.
Wednesday - April 3
Our trip begins as we meet in the Los Angeles airport (LAX) for our departure to Israel. We must be at the airport three hours before the flight departs to check in and board our flight for the land where Yeshua walked as a Man. Shalom!
Thursday - April 4 Tel Aviv
We land at Ben Gurion International Airport in Tel Aviv around 1 pm. Upon arrival, we will be met, assisted through Visa and Passport Control and transferred to our Messianic guide who will take us to our first sight which is Independence Hall in Tel Aviv. This is where Israel's 1948 Declaration of Independence was signed. We will stop at Jaffa, an ancient port city, where Jonah fled from the Lord. After this, we will go to our hotel to rest up and then dinner. Optional: after dinner we will take a stroll on the boardwalk at the beach for a look at the Mediterranean Sea and then overnight at the Hotel Gilgal.
Friday - April 5 Caesarea/Aqueduct, Megiddo, Mount Carmel, Nazareth, Zippori, Cana
Today we will head for Caesarea, stopping at the Roman theater, the aqueduct and wading in the Mediterranean. We will visit Megiddo and take pictures of the valley of Armageddon. We will continue to Mt. Carmel, Muhraka, and the place of Elijah's battle with the prophets of Ba'al. Then to Zippori and Cana on the way to Nazareth, - the boyhood home of Yeshua. Visit Nazareth Village which features houses, terraced fields, wine and olive presses all built to resemble those that would have been in a Galilee village in the 1st century. Guides dress in period costume and show visitors how farm, domestic, and craft work was performed two thousand years ago. We will experience a Shabbat dinner and then overnight at the Kibbutz Nof Ginosar in the Galilee.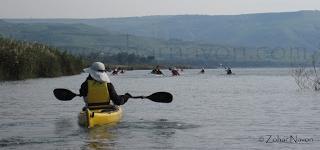 Saturday - April 6 Rafting, Golan, (Tel Dan, Banias, Mt Bental, Nimrod), Baptism
Today we will head north to the Golan Heights and begin the day with a short, easy white-water rafting ride down the Jordan River starting in Kfar Blum. Then we will visit Tel Dan to view the altar of Jeroboam and the Canaanite gate. On to Banias, Caesarea Philippi, where Yeshua told His disciples why He had come. Then, to Mt. Bental to see the bunkers and fortifications and stand just 60 miles from Damascus. Isaiah 17:1 Damascus will cease from being a city and shall become a ruinous heap. If we have time we will visit Nimrod's Fortress. Lastly, we will have the option to be baptized in the Jordan River. Then return to our kibbutz for dinner and overnight.
Sunday - April 7 Boat ride on the Sea of Galilee, Tabha, Capernaum, Magdala, Bible Boat Museum/ Beit She'an
We begin today with a ride on the Jesus Boat on the Sea of Galilee. Then we will visit the sites where Yeshua spent 75 percent of His early ministry – 1) Mt. of Beatitudes where Jesus taught on the hillside. 2) Then we will descend to Taghba (Peter's Primacy), site of the miracle of the Loaves and Fish, and also where Jesus fed His disciples a meal on the beach of the Sea of Galilee after His resurrection. 3) Then, on to Capernaum and the house of Simon Peter and the synagogue where Jesus preached. We will visit the Ancient Galilee Boat museum, to see the Jesus Boat, an ancient fishing boat from the 1st century AD, discovered in 1986 on the north-west shore of the Sea of Galilee. Then we will visit Beit She'an, one of the largest archaeological sites in Israel with Egyptian, Philistine and Roman ruins. This is where the bodies of King Saul and Jonathan were hung after their defeat at Mount Gilboa. See this amazing archaeological discovery containing 18 levels of civilization. Our last stop will be the Magdala archaeological site to see the remains of a first century synagogue. Return to your kibbutz for dinner and overnight.
Monday - April 8 Cross border, Panoramic Amman in Jordan, Medaba, Mt. Nebo, Petra
We will spend the morning driving to the Northern crossing over to the Jordanian border with a panoramic view of Amman, the capital of Jordan. Drive north to the church of Medaba to see a mosaic map of the Holy Land, created for St. George's during the reign of the emperor Justinian (527-565), including the oldest mosaic map of the Holy Land. We will see a breathtaking view of the Jordan Valley from Mt. Nebo, the same view that Moses saw of the Promised Land, but was not allowed to enter. Dinner and overnight in Petra at the Old Village Resort.
Tuesday - April 9 Petra, Jordan, Wadi Rum, Eilat
We will enter the "Red Rose City (Petra) half as old as time." From Wadi Moussa, travel on foot or horseback through a narrow gorge in the Nubian sandstone and arrive abruptly at the outstanding Red Rose City with the treasury before you. Visit the Nabateans' Tomb, Temples and dwellings which were hewn from the surrounding rock formations of multicolored stones. Petra was one of the most important caravan centers during Biblical times. It was lost to the world for over 500 years until rediscovered in the year 1812. After Petra we continue to Wadi Rum by jeep which is a protected desert wilderness in southern Jordan. It features dramatic sandstone mountains. Many prehistoric inscriptions and carvings line rocky caverns and steep chasms, such as Khazali Canyon. The natural watering hole of Lawrence's Spring is named after British soldier Lawrence of Arabia – Lawrence of Arabia was filmed there. Optional camel ride through the dessert where Moses led the children of Israel through the wilderness. We will end our day in the beautiful city of Eilat, staying at the Magic Palace Hotel.
Wednesday - April 10 Masada, Ein Gedi, Dead Sea, Qumran, Jerusalem
We will depart from Eilat and drive through the Arava to Masada. We will take a cable car up to the fortress of Masada. Here the defenders held out for three years against the Roman Army and then committed suicide rather than be taken into slavery. "Masada shall not fall again" is the oath taken by cadets who graduate from Israel's military academy. After that, we will continue to the oasis of Ein Gedi and walk where David hid in caves from Saul. Then we will drive to the north shore of the Dead Sea for a dip in the water and float. Then visit Qumran where the Dead Sea Scrolls were found. We will end the day with our ascent to Jerusalem.
Thursday - April 11 Jerusalem
We leave the hotel after a delicious Israeli breakfast. Our first stop will be to visit Yad Vashem, then Hertzel Museum, Ein Karem, and Hadassah Hospital to see the famous Marc Chagall murals. We will then tour the Western Wall Tunnel. We will walk through the old tunnel underneath the Temple Mount. Here at a certain spot in the tunnel, you will be as close as one can get to the Holy of Holies from the Temple in the day of Yeshua. After a full day, we will return to our hotel for dinner and overnight at the Prima Kings Hotel.
Optional Evening Plans: Take a guided short walk to visit the famous King David Hotel and stroll through the lobby; walk through the luxurious Mamilla Mall; stop for photos and a breathtaking view of the city; then enter the Old City at the Jaffa Gate.
Friday - April 12 Jerusalem
We will begin the day at the City of David and walk through Hezekiah's tunnel; see a new and very exciting dig in process (known as the Gavati excavation); visit the Temple Institute to see the vestments and artifacts being prepared for the future Third Temple. We will go to Mt. Zion and the Upper Room. We will shop in the Old City and then enjoy a Shabbat dinner at the Prima Kings Hotel and overnight.
Optional Evening Plans: Participate in Israeli Folk dancing at 9:15 pm (30 shekels) or do some shopping a few blocks away in the Ben Yehuda area. Visit the YMCA on King David Street and take the elevator to the top floor to the observation lookout for an amazing view of Jerusalem (12 shekels).
Saturday - April 13 Jerusalem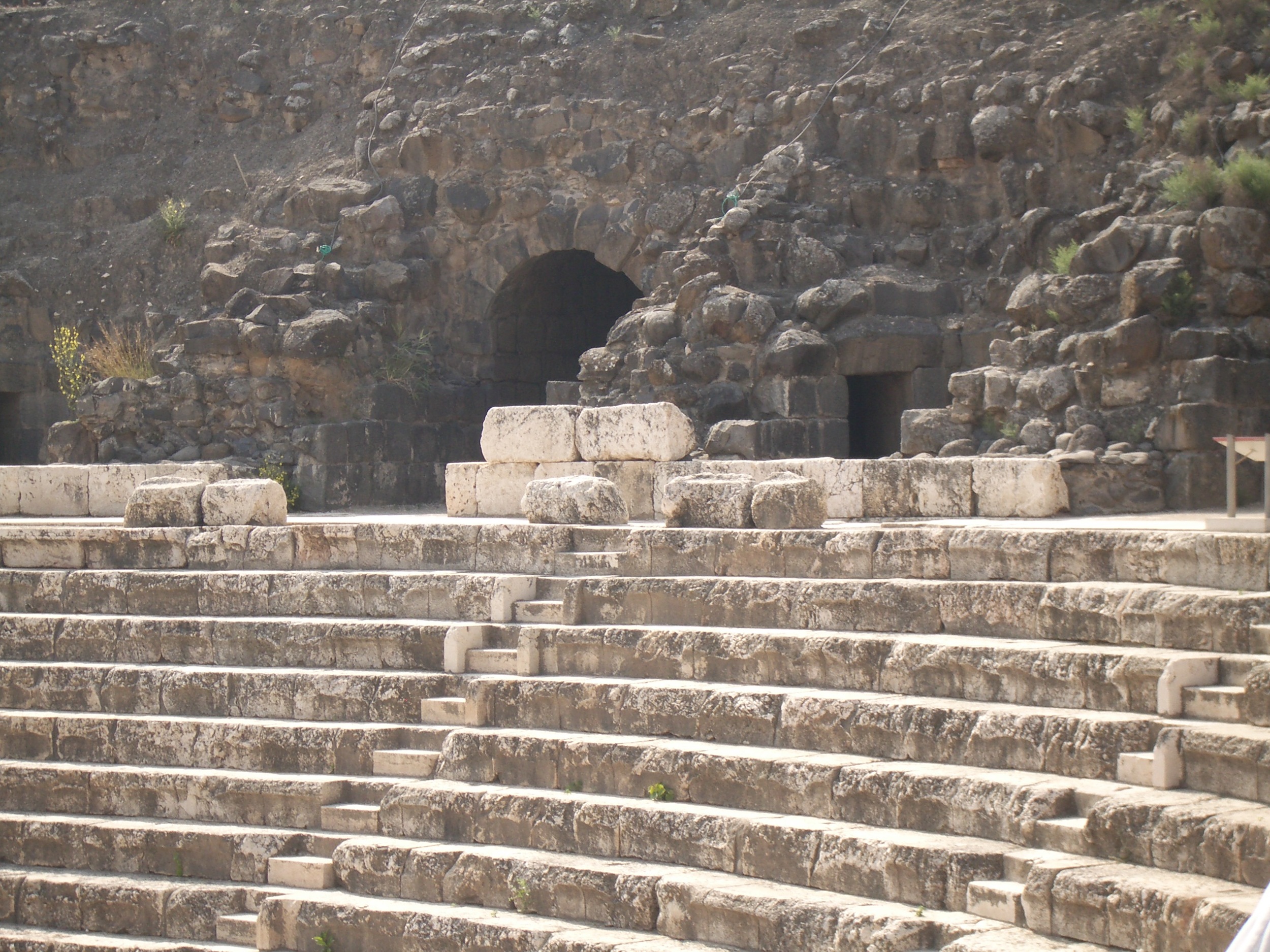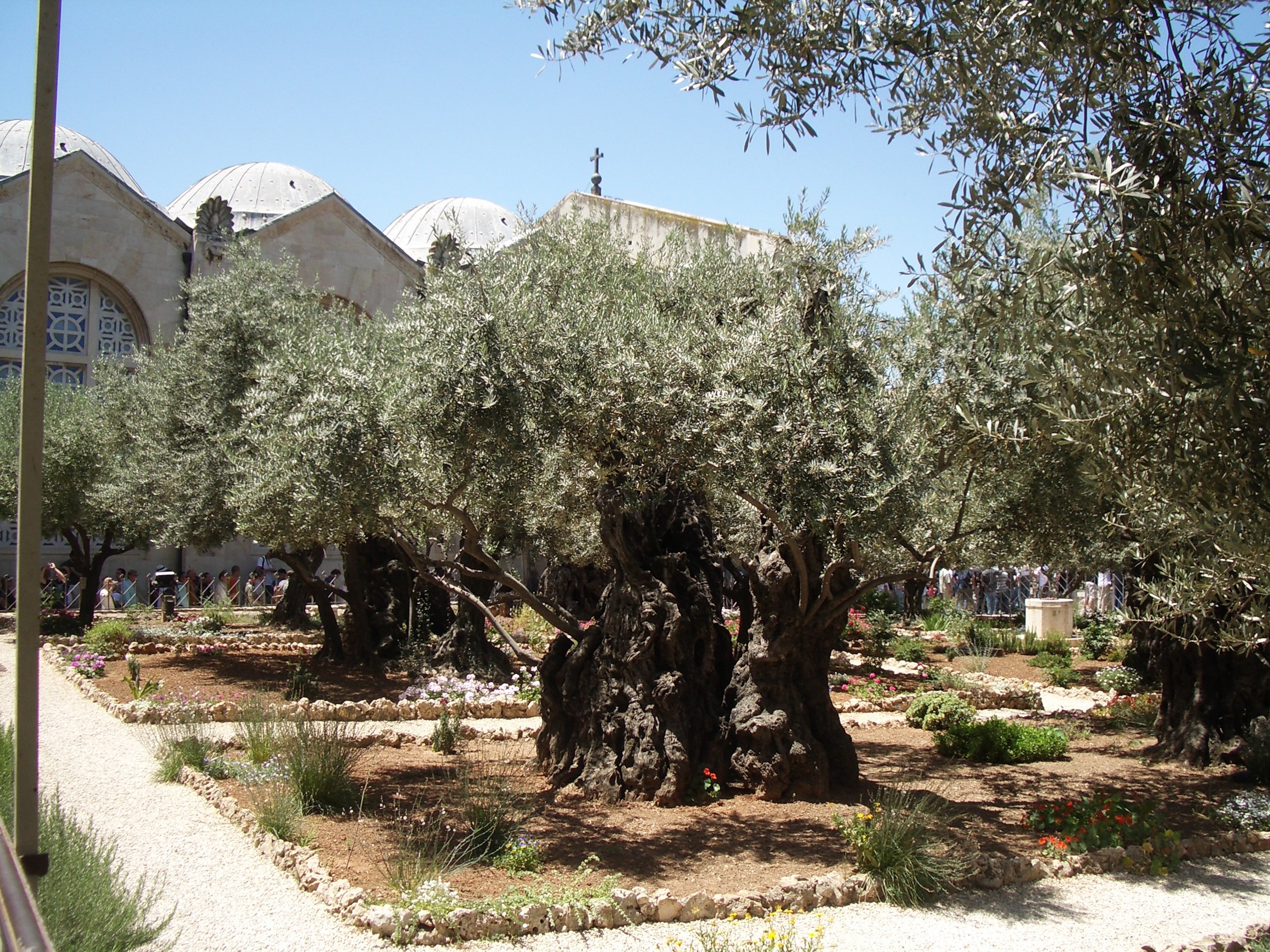 Then to the Mt. of Olives which overlooks the Kidron Valley and the Temple Mount. This is a walking afternoon where we literally walk where Yeshua walked through parts of the Old City. Down the Palm Sunday Path to the Tear Drop Church to Gethsemane, a private garden for worship, to the House of Caiaphas. Return to our farewell dinner and overnight at the Prima Kings Hotel.
Depart Israel in the morning with memories of your many experiences in the Lands of the Bible. We will arrive at LAX at 6:20 that evening.
TOUR CONDITIONS
AIR TRANSPORTATION/RULES: Round trip economy class jet airfare with El Al Airlines.
LUGGAGE: Allowed free of charge to your first overseas destination and from most points of return to the U.S.A., 1 bag per person plus a carry on – This may change by departure time.
HOTEL ACCOMMODATIONS: Hotels featured in this tour are first class, kibbutz and semi-deluxe and deluxe. All rooms are twin bedded with private bath and the tour price is based on two people sharing one room. Anyone occupying a room as a single will be charged a single supplement of approximately $925. The judgment pertaining to the classification of hotels reflects only the opinion of the tour operator as to comparative desirability.
TRANSFERS: Transportation of passengers and luggage is provided on arrival and departure from airports to and from hotels and is included in the tour cost when traveling with the main tour party.
SIGHTSEEING: As described in this brochure, via air-conditioned motor coach with English speaking, government-licensed guides. Entrance fees per the itinerary are included.
MEALS: Breakfast and dinner daily.
DOCUMENTS: Each passenger must possess a valid passport. Some passengers may require VISAS. All passengers are responsible to obtain the correct travel documentation (passport, visa, identification) for the destination(s) to be visited.
INCLUDED: - Hotel service charges and taxes levied by hotels and governments, tips for baggage porters at hotels and airports for the group as a whole.
NOT INCLUDED: Tips to drivers and guides, border tolls, visas, passport fees, and items of a personal nature, such as laundry, mineral water, beverages, food other than the main meal menu, and foreign port taxes.
COSTS: The cost of the Song For Israel 2019 Tour is $4,350 per person (price subject to change). Cost is based on a double occupancy hotel room. Single occupancy is an added cost of approximately $925. Price includes air and land transportation, twin bed hotel room, entrance fees, and daily breakfast and dinner. This price does not include lunches, airport taxes, visa taxes, personal expenses, or tips (that will be collected prior to departure). A limited number of seats have been reserved on the airlines. Trip cost may increase if you register after we have exceeded this limited number.
DEPOSIT: A deposit of $450.00 per person is due immediately to confirm your reservation plus - Include a copy of your Passport information that is valid for at least 6 months after the completion of your travel. Included in the deposit are administrative costs of $225.00, which are non-refundable.
FULL PAYMENT: Due 60 days before departure
CREDIT CARDS: The tour price reflects a 4% discount for purchases made by checks or cash. We do accept major credit cards (Visa, Master Card, and American Express) for all services. Credit card charges will only be processed upon submission of a completed Bound to Travel Credit Card Authorization form.
CANCELLATIONS AND CANCELLATION FEES:
120-90 days prior to departure $100.00
90 – 45 days prior to departure $250.00
45 - 30 days prior to departure 30% of tour cost
29 -15 days prior to departure 50% of tour cost
14 days or less No refund (but if you have trip insurance and cancel due to illness, your insurance covers)
Plus all penalties and cancellation fees for the airfare as imposed by the carrier.
TRAVEL INSURANCE: We highly advise you to OBTAIN APPROPRIATE TRAVEL INSURANCE COVERAGE against any type of incident that can cause you to cancel your tour. Please let us know if you need any insurance recommendations.
RATES: All tour prices are quoted based on tariffs, rules and currency exchange rates effective as of June 1, 2018 and are subject to change.
RESPONSIBILITY: Song For Israel (SFI) and Bound To Travel, Inc. (herein "Travel Agency") is acting as mere agents for SUPPLIERS (identified on the accompanying documents) in selling travel-related services, or in accepting reservations or bookings for services that are not directly supplied by this Travel Agency (such as air and ground transportation, hotel accommodations, meals, tours, cruises, etc.). Travel Agency, therefore, shall not be responsible for breach of contract, failure to comply with any laws such as the Americans with Disabilities Act (ADA), or any intentional or negligent actions or omissions on the part of such suppliers, which result in any loss, damage, delay, inconvenience or injury to travelers or travelers' companions or group members. Unless the term "guaranteed" is specifically stated in writing on your tickets, invoice, or reservation itinerary, Travel Agency does not guarantee any of such supplier's rates, bookings, reservations, connections, scheduling, or handling of baggage or other personal effects. Travel Agency shall not be responsible for any injuries, damages, or losses caused to any traveler in connection with terrorist activities, social or labor unrest, mechanical or construction failures or difficulties, diseases, local laws, climatic conditions, abnormal conditions or developments, or any other actions, omissions, or conditions outside the travel agent's control. Traveler assumes complete and full responsibility for, and hereby releases the agent from, any duty of checking and verifying any and all passport, visa, vaccination, or other entry requirements of each destination, and all safety and security conditions of such destinations, during the length of the proposed travel. For information concerning possible dangers at international destinations, contact the Travel Advisory Section of the U. S. State Department, (202) 647-5225, or access the State-Department's on-line travel advisory service (www.state.gov/travel information/travel warnings). For medical information, call the U. S. Centers for Disease Control (CDC), (404) 332-4559 or log on to www.cdc.gov./travel. By embarking upon his/her travel, the traveler voluntarily assumes all risks involved in such travel, whether expected or unexpected. Traveler is hereby warned of the above risks as well as possible travel industry bankruptcies and medical and climatic disruptions, and the possibility traveler may be unable to travel as scheduled because of personal emergency. Traveler is advised to obtain appropriate insurance coverage against these risks; information is available through this Travel Agency regarding travel insurance. Traveler's retention of tickets, reservations, or bookings after issuance shall constitute consent to the above and an agreement on his/her part to convey the contents hereto to his/her travel companions or group members. The Travel Agent is not responsible for disruptions of any kind stemming from Year 2000-related problems, weather, or carrier or supplier logistical problems.
Song For Israel
www.SongForIsrael.org
18340 Yorba Linda Blvd. #107-153
Yorba Linda, CA 92886
(714) 488-8168
info@SongForIsrael.org
and
Bound to Travel, Inc.
711 South Brea Blvd.
Brea, CA 92821
(714) 773-0222
COST: will be determined based on the city of departure and which Option chosen. Costs of the Tours are approximately $4,350 per person . Cost is based on double occupancy (single occupancy, added cost of approximately $925). Includes round trip airfare, land transportation, entrance fees, hotel stay, and two meals a day. Does not include airport taxes, visa costs, or tips. DEPOSIT: A deposit of $450.00 per person is due within 7 days of registration to confirm your reservation. In addition a copy of your passport (valid up to 6 Months after your travel ends). Included in the deposit are Administrative Costs of $225.00, which are non-refundable. Because this will be a busy time of the year for tourism, we will need deposits ASAP to hold the airline seats reserved. Should the tour cancel for any reason, you will receive 100% of your deposit refunded to you. Registration forms are available by clicking here.
TOUR LEADERS & INSTRUCTORS
Deby Brown:
Deby Brown is Director of Song For Israel. Previously she was a commissioned Pastor at Friends Church Yorba Linda, Yorba Linda, California, and Director of Women's Ministries of Calvary Church, Santa Ana, California. She is author of Understanding God's Eternal Plan for Israel (available on Amazon).
For more information, email info@SongForIsrael.org
Please fill out the form below to register interest in one of our Israel Tours and/or to ask questions. To register for this tour, a deposit and copy of your current passport and a completed registration form is required. Click here for the registration form.
Click here for a printable copy of the itinerary - This is being updated now.
Click here for a printable copy of our postcard - This is being updated now.
Testimonials: